Welcome To Your New Hair Journey
Hair and scalp wellness takes time. Although they give instant shine/body, we must remove sulfates and silicones from the hair follicle and scalp as they disrupt your scalp biome and leave long-term damage一this can cause short-term dullness but is absolutely worth it in the long-run.
We have set out the phases below you can expect on your way to a balanced scalp, and hair health.
Month 1
Reset Phase
+ Detox and Cleanse will help remove dead skin cells and build up of product around the hair follicle
+ You will experience your hair's natural texture, so it may feel dry due to the removal of silicones that cover-up damage and prevent moisture from penetrating the hair shaft
+ Hair may feel flat during this stage, which means it's possible that you are using too much Scalp Detox or not double cleansing sufficiently
Month 2-3
Restore Phase
+ Using the Cold Processed Conditioner, your hair will be properly hydrated without toxins and you will start to notice improved hair texture because of the deep absorption of nutrients
+ You may notice some frizz as the hair adjusts to absence of silicones
+There will be reduced scalp inflammation and irritation
Month 4
Renew Phase
+ The pH of the scalp will be restored, leading to a balanced microbiome
+ The original hair texture, moisture, and shine will return
+ You will start to notice your new hair grows consistently with resilience
+ Your hair will feel fuller and stay cleaner longer
Ask us anything.
We care about your hair so we're here to answer any question—just text us.
Tutorial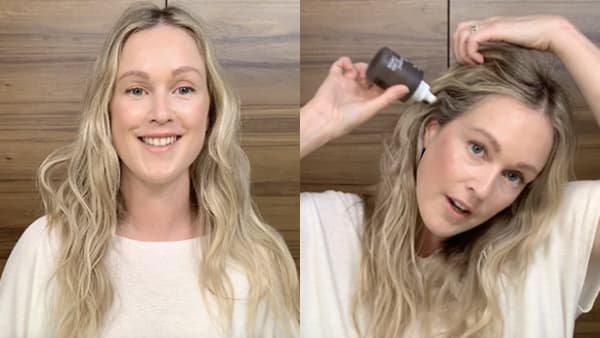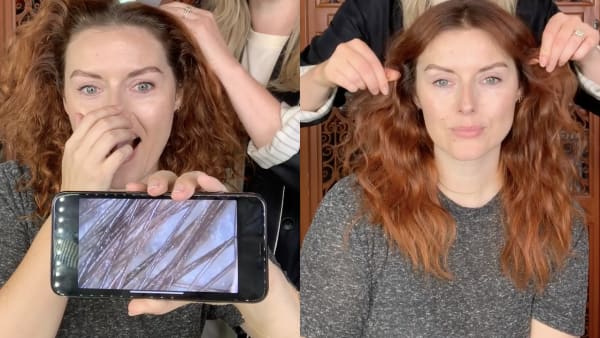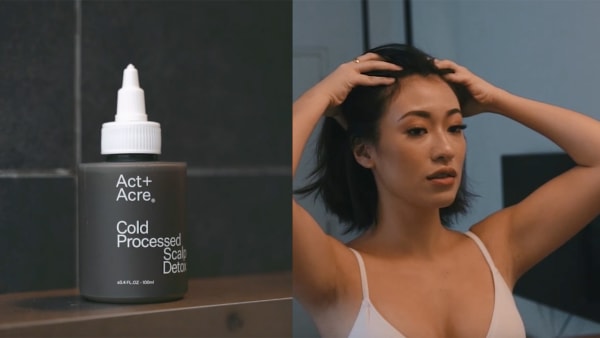 How To + FAQ
Cold Processed® Hair Cleanse
+ Add a capful sized amount of cleanse to hand, add water, and emulsify product into a rich lather
+ Apply lathered product to scalp and massage in, starting at the back of your hair working your way to the front
+ RInse and repeat. The first cleanse removes product build-up and pollution. The second helps to deliver nutrients and purify both the scalp and hair
+ The second cleanse should easily form a rich lather in your hair, and if it doesn't, try applying more product during the first cleanse
Cold Processed® Moisture Balancing Conditioner
+ Wring hair of excess moisture and massage dime-sized amount of conditioner into the hair
+ Concentrate product on the mid-lengths to the ends of the hair
+ Leave in for 2-5 minutes before rinsing thoroughly
+ Always double cleanse for best results
+ Suitable for all hair types
+ Safe for chemically treated hair (color, keratin, relaxer)
Our Cold Processed® Method
The Past - Conventional Heat Processing
Over the past few decades, the haircare industry has become increasingly complex. Conventional hair products now contain up to tens or even hundreds of ingredients, and the list grows longer as makers continue to prioritize short-term performance over the long-term wellness of consumers and the planet.
While the industry favors a conventional heating process to mix products in a cost-effective manner, it can take up to five hours to achieve a homogenous mixture at temperatures exceeding 300°F. This sustained exposure to high heat not only has a material environmental impact, but can also significantly degrade the efficacy of naturally active ingredients and introduce potential toxicological risks. For example, commonly used surfactants such as sodium lauryl sulfate and/or sodium laureth sulfate can interact and/or combine with other ingredients at elevated temperatures to form nitrosamines, which are known human carcinogens and can lead to human kidney and respiratory damage over time.
The Future - Cold Processed® Method
Determined to challenge the status quo, we partnered with leading scientists to adapt biochemical engineering technology into a new, innovative manufacturing process for hair products. Our patented Cold Processed(R) method uses hyperbaric chambers, ice cold water, and 1,200 pounds of pressure to combine our plant-based ingredients. By ensuring the internal temperature of the hyperbaric chamber never exceeds an ambient level of 68°F, the original active ingredients remain fresh and highly potent. The absence of heat mitigates the loss of molecule compounds that would otherwise be released by the added energy. Further steps are then taken to reduce energy consumption, such as reducing the propeller speed to 200rpm when the temperature of a mixture approaches a given threshold relative to the ambient level.
The result is a nutrient-rich formula that easily absorbs into your hair and scalp for optimal health. With consistent usage, we've seen a significant improvement in both scalp health and overall hair wellness—leading to stronger, more resilient hair growth. In 2018 the US Patent and Trademarks Office granted Act+Acre patent protection for our Cold Processed® method, which means we can continue to develop these products as both innovators and industry leaders.
The Proof - Princeton-Led Clinical Trial
We put our three-step Cold Processed® system (Scalp Detox, Hair Cleanse, and Hair Conditioner) to the test to demonstrate the upheld integrity of our ingredients. Two leading scientists from the Princeton Research Education Service conducted a test on hair tresses of various weights, lengths, and widths using ATR-FTIR Spectroscopic technology.
+ Method of Study
The tresses were standardized with 0.15ml of a 15% Sodium Laureth Sulfate (SLES) solution, massaged, rinsed for 30 seconds and allowed to air dry at 60% relative humidity. 0.5g of sebum was then applied to the hair tresses to mimic greasy and dirty hair. The tresses were massaged for 30 seconds on both sides for even distribution of the sebum along the hair fibers and allowed to air dry at the same 60% relative humidity overnight.
+ Findings
Using ATR-FTIR spectroscopy to assess both 1) the initial sebum content (baseline) and 2) the hair after being treated with Sponsor (Act+Acre) products, the sebum amount present on the hair surface was significantly decreased. Overall, the product regimen performed consistently among all types of hair tresses treated, and the final reduction in sebum levels was higher than 95%.
Responsibility
Ingredients
Each ingredient comes straight from its source across Asia, Africa, and the Americas. We partner with farms and labs that subscribe to sustainable business practices and equal wages to all parties, from the farmers who handpick each botanical ingredient, to the factory workers who extract the essences, to the scientists who develop the formulations. We think you deserve to know what you're putting on your scalp and hair. All ingredients can be found on each product page. If you have more ingredient-specific questions, just shoot our team an email at hello@actandacre.com.
Eco-Friendly Production
By eliminating heat, our Cold Processed® Method consumes 90% less energy than conventional heat manufacturing. We've also partnered with a leading energy solution company to implement community-scale projects that reduce greenhouse gas emissions, strengthen businesses, and contribute to progress around the world. Our products are produced locally in the United States.
Packaging
Our bottles are made of PETG and PET, two of the most recyclable forms of plastic. We work closely with our manufacturing facility to ensure that these materials are directly tied to upcycling efforts to reduce plastic waste. Every piece of printed material, including the box your products arrive in, are produced from second-life, recycled materials and responsibly sourced from a managed recycling facility. As of January 2020, we are officially Carbon Neutral.
Refills
What's most important to us is your wellbeing and the wellbeing of the planet we share. That's why we created a packaging solution that used less plastic. In the production of each refill pouch, we save 60% of the plastic, water and energy needed to produce one bottle. Our pouch is made of four layer of carefully selected material that is easily recyclable.